So what exactly is a walk in bathtub and how would one benefit from it?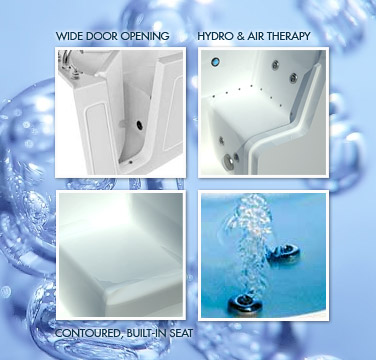 Walk-in bathtubs were first introduced to the public in 1999-2000ís and were advertised as an unltimate bathing solution for seniors and disabled. Throughout the last decade, however, walk-in bathtubs became popular in the home improvement industry as premium bathtubs equipped with hydro and air massage jets. New features such as chromo and aroma therapies became an optional feature that home owners looking for an alternative to Jacuzzi tubs. Customized color finishes and designs attract customers looking for a luxury walk in bathtubs for their homes and businesses. Some of the safety features that walk in bathtubs provide are:
Wide Door Opening that allows easy and safe transition in and out of a walk in bathtubs.
Non-slip Floor Inside of walk in bathtubs which prevents users from falling. According to multiple researches done by healthcare professionals, majority of falls occur while bathing or showering.
Most importantly, walk in bathtubs feature a Contoured, Built-In Seat that permits luxurious, stress-free bathing.
Hydro and Air Therapy Massage come as an optional feature. Please refer to our walk in tubs section to see the list of avaialble models.